Tested quality
The high-quality stainless steel products from Marinetech
Our customers appreciate the high quality we deliver.
Many years of experience in trading with stainless steel products, carefully selecting our suppliers and constant monitoring activities from production to dispatch are what form the basis of this.
We perform tests for you to ensure that you receive only the very best stainless steel products.
Items sold by Marinetech are subject to constant quality control.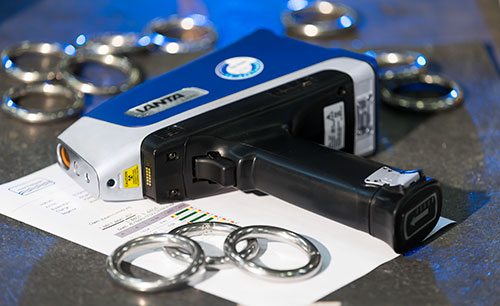 Three ways to guaranteed quality:
1. Precise control for maximum product quality
The products we sell are only manufactured by selected producers in line with our standards and are subject to continuous quality control throughout the entire production process. Another final quality check takes place in our warehouse in Bremen.
2. Material analysis with the latest X-ray technology
For your safety! AISI 304 or AISI 316? Marinetech gives you exactly the stainless steel quality you order. The material composition is tested in batches for each delivery. We use the latest technology – X-ray-based analysis of the metal composition – for testing purposes. Olympus, the manufacturer of the material analysis gun, is one of the leading companies in the field of mobile material analysis equipment.
3. Visual inspection and dimensional check
In addition to the material analysis, the products are subjected to a visual inspection and a dimensional check, as well as being randomly reviewed to ensure that they comply with the specified dimensions and tolerances.
4. Breaking load/destructive tests
We have confirmed breaking loads for some products. In order to be able to guarantee compliance with these specifications, the products are tested by a materials testing laboratory accredited to DIN EN ISO/IEC 17025. The materials are tested under extreme conditions by means of tensile tests, hardness tests and metallographic examinations.