Our complete range of high-quality stainless steel fasteners for ordering, as a source of inspiration and as a practical reference book
The world of the Marinetech catalogue
Discover more than 38,000 norm, standard and special articles on more than 500 pages, with all measurements and detailed explanations in words and pictures - from shackles to fittings: The comprehensive information on screws fills 86 pages, including the practical "Fastener Finder"! A huge selection of hinges, handles and hooks is presented on 60 pages. You can also expect a wealth of ideas and facilities for the point of sale, from individual packaging to blister walls, as well as technical information for construction. The index enables a quick selection and facilitates orientation.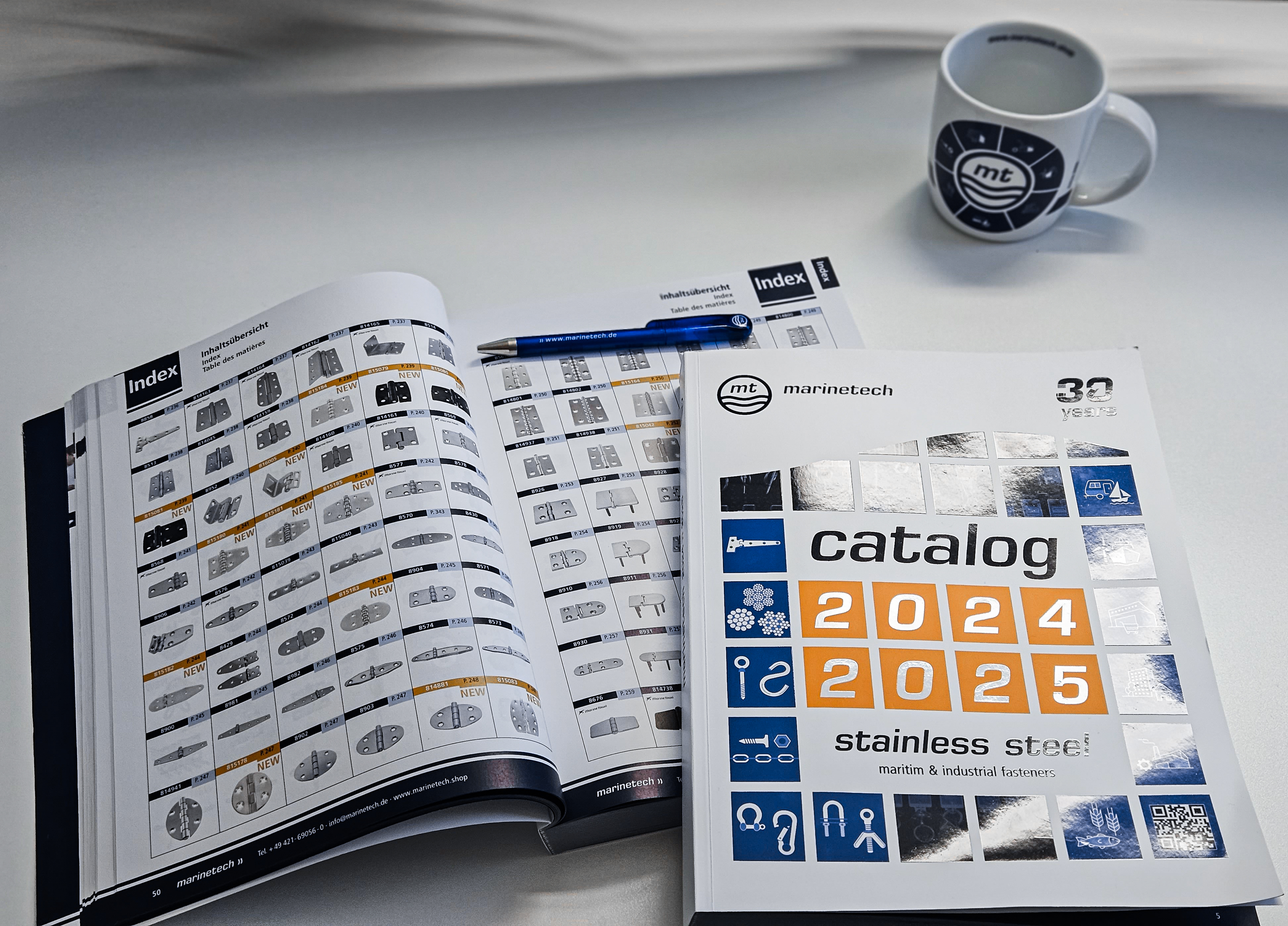 The new Marinetech catalog is here!!!
The Marinetech catalogue to-go
On the road, the construction site, the workshop, customer visits or as a creative collection of ideas in meetings.
Marinetech Fasteners made of high-quality stainless steel reliably defy wind and weather. Therefore, our products support you in almost all technical and craft areas - in nautics, architecture, agriculture, sports and leisure industry and much more.
Everything inside - handy in A5 format
Marinetech Index
An overview of the current Marinetech range. Use the index for orientation and a clear ordering guide!
Available from May 2023.
Order index as A5 brochure free of charge
Small and fine: everything about screws & co. - material information, dimensions and shapes in overview
The Marinetech Fastener Finder
4 small cards, 8 pages in 44 x 160 mm format - originally held together by our smallest round shackle no. 8258403 - as a measuring and orientation aid for on the road, as a valuable decision-making aid for your point-of-sale or as a practical customer gift.
This is what the Marinetech Fastener Finder can do:
Check lengths and diameters of bolts, nuts and washers using measuring bars and templates

Explain markings and technical properties

Match screws, washers and nuts appropriately.
An overview of thread types, drive and head shapes, conversion tables and brief care and assembly instructions perfect this little wonder.
Available from mid-February 2021.